HIGHLIGHTED MEMBER OF THE MONTH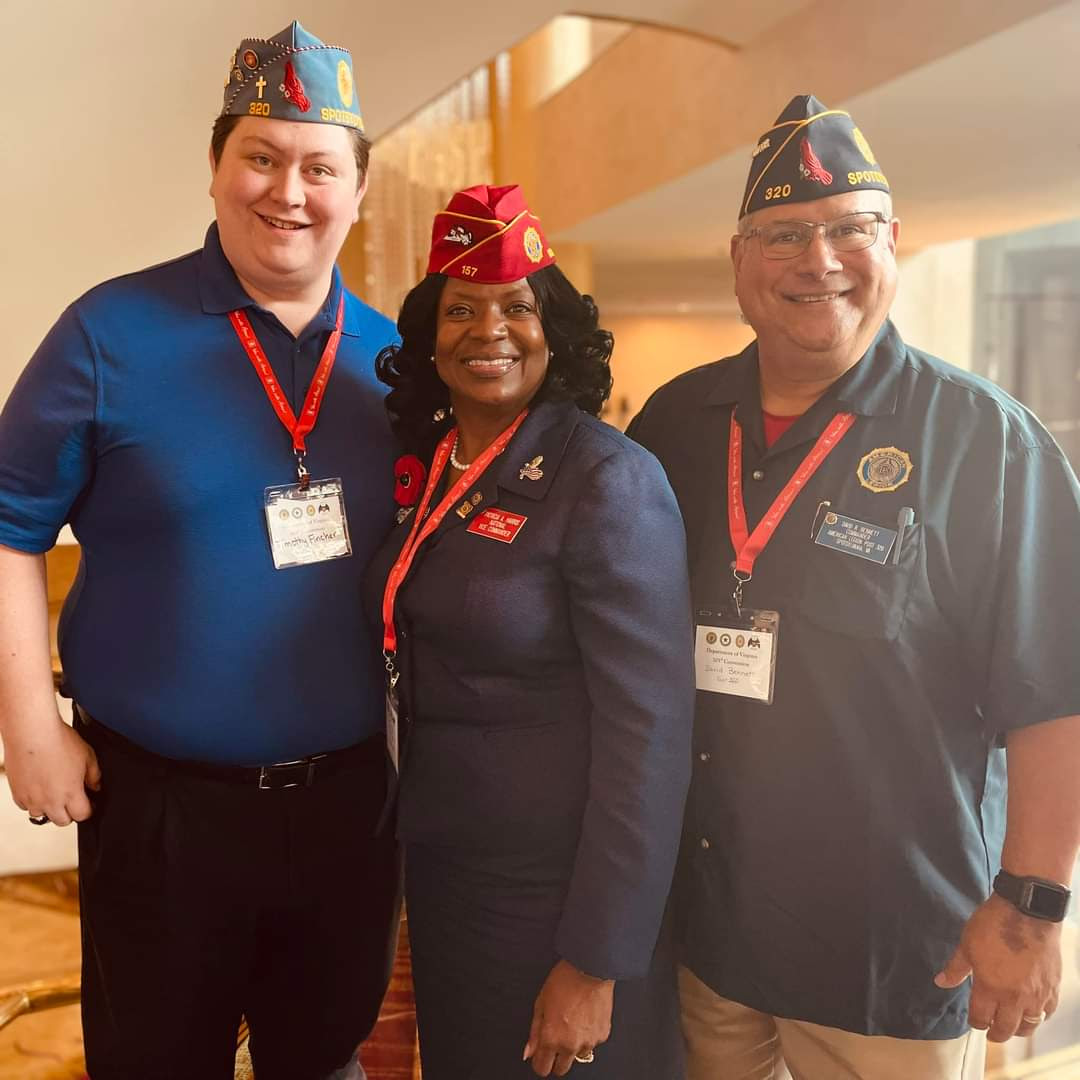 Sons Commander Tim Fincher at the July Department/Detachment Convention in Dulles with National Vice Commander Harris and Post 320 Commander David Bennett
Timothy Fincher
My name is Timothy Fincher. I am the Commander for the Sons of the American Legion Squadron and I've been a Sons of the American Legion member for 15 years. I originally started hanging around the post in 1998 while my father was a member of Company 1 next door, with the Spotsylvania Volunteer Fire Department. After a short time it became known that my father was a bagpiper and was good at it, after serving with the Fairfax County Fire Department's Emerald Society band during his tenure with the fire department. After that point, that's all she wrote.
From that day I have been around and have loved the American Legion for what it stands for, all of the interesting stories from WW2, Korea, Vietnam, etc. When the Sons of the American Legion had its charter reactivated in 2008 with the new building, I was one of the first new Squadron members and from there I've thoroughly enjoyed each moment. I have had the pleasure to serve as the Sergeant-at-Arms, Chaplain, Vice Commander and now as the Commander. I serve proudly and look forward to what my time in the Sons of the American Legion brings me as I move into a secondary role as the Assistant Sergeant-at-Arms for the Detachment of Virginia and as I work with Vice Commander Vaas on the children and Youth Committee.
A little about me, outside of the Legion, at a glance. In January of 2010 I began what has been my other calling, public safety, through the Cadet program where I served seven years with the Spotsylvania Sheriff's Office; achieving the rank of Captain, which I held for four years. For a short amount of time I worked as an Emergency Communications Operator for the Sheriff's Office before I resigned due to health reasons. I also have a background in private security from uniformed details to protection details to threat analysis. Private security continues to be the field of choice to this day.